Engraving
At Highland Jewelry Mart we can engrave virtually any item. Make the gift you choose personal and memorable with an engraved message. Nearly any gift can be engraved ranging from the traditional jewelry items to the current popular cell phones. At Highland Jewelry Mart, we specialize in jewelry engraving but we can engrave on virtually any material.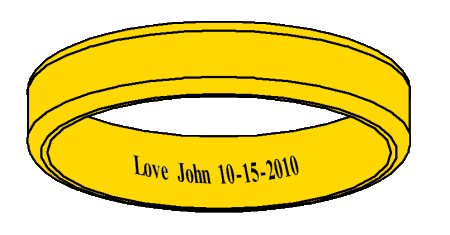 Jewelry Items
Rings (Inside or Outside)
Lockets/Pendants
Pocket /Wrist Watches
Dog Tags
ID Bracelets
Key Chains
Men's Bracelets
Women's Bracelets
Charms
Earrings
Religious Jewelry
Watches
Medical ID Bracelets/Pendants
Medical ID Bracelets and Pendants
Persons with life threatening illnesses, allergies or any other chronic conditions wear medical identification bracelets.  The patient's important medical information is permanently engraved on a metal bracelet or pendant to insure that it is always available to medical personnel during an emergency.  Emergency room doctors, nurses and paramedics routinely look for these bracelets and pendants when their patient is confused or unconscious.  
At Highland jewelry Mart we sell a wide range of fashionable medical identification bracelets and pendants made from stainless steel, sterling silver and gold.    If you or a loved one needs a medical ID bracelet or pendant, we can help.   We can also engrave the important medical information on almost any ID bracelet or pendant. If you have any questions, please stop in, call or email us. 
Engraving Removal
We can also remove engraving from sterling, gold and platinum items. So, if you have an old engraved jewelry piece and you wish to change the message, we can remove the old engraving and replace it with a new message.